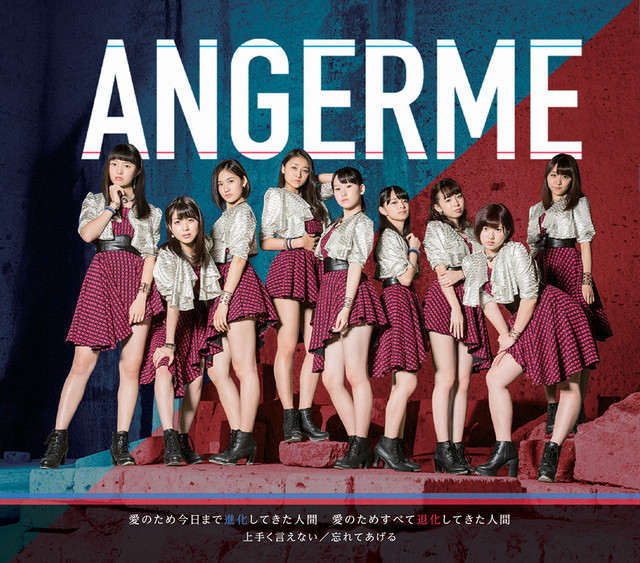 Ai no Tame Kyou Made Shinkashite Kita Ningen, Ai no Tame Subete Taikashita Ningen (Music Video)
Initial Impression:  From watching the short PV, this song immediately had me on my toes. It is very different from previous Angerme songs. Both the PV and song have a futuristic aura and theme. And I wasn't sure if I was on board for that type of music.
Song: There's a bit of noticeable autotune here, something I wasn't sure I liked from Angerme. But  after listening to the song more, I had decided that it fit the song just fine. I really like the futuristic concept here, I don't think it's something that I openly embraced before.
The chorus is spot on, so lively and consistent. In fact the entire song, up until the dancing section, is consistent. After listening to the song in full, the worries about it matching my style fell off. Angerme did not fail me with bringing a different style that I'm not in tune to.
The structure of the this song is beautifully constructed. The verses and chorus are in sync and flow so naturally. I'm not the craziest  over layer that H!P is soooo fond of, but it adds to the song's concept. Another thing, is the bridge. It is probably my favorite part of the song, it is so perfect. The opening with Moe was unexpected but delightful, and of course Ayaka and Murota were exceptional as well.
Grade Lvl. A
Dance/Outfits:  The dance is okay a bit weird and awkward in some places. And a really cool in other parks, thanks to CG (cue Ayaka and Maho.)
Another thing… I don't have a problem with the dance break particularly but it does look a bit awkward on some of the less capable members and the singing there also a bit much. I don't think it matched the songs progression much and even after listening to it time and time again, I still find it unsettling.
The outfits are okay not the best but not unbearable either. Love the plaid!
PV:
Boom! Bam Bam Bam! It's the new member Momona! Momo is a former H!P Kenshuusei, who was recently added to Angerme (who did not hold public auditions) out of the blue, quite literally. Anyways, prior to announcement of her joining Angerme, I had only one memory of her performing at the Kenshuusei public test. "She needed work but she was pretty", those were my thoughts about Momo.
To comment on her performance on this single (as whole), being a member of the training program has most definitely worked in her favor. Momo is working like a pro, she has no fresh ameutuer aura to her. An A+ for H!P whenever they choses to add their trainees to their groups.
Once again the complimentary scenes were a nice small touch the video. As far as I could analyze there was no significant story line or plot (otherwise any meaning) that they contributed to.
The CG set the PV a step up from being a normal average PV. It gave it a appeal and something to look forward too. The CG wasn't anything spectacular or over the top but a accent. It was definitely pleasing to watch and see how it was used to punctuate the dance.
Fin!
Muah! ❤